State Treasurer Curtis Loftis returned $9,800 to the City of Aiken and nearly $8,400 to Aiken County Public School District as part of his ongoing efforts to get money back to its rightful owners.
"Returning unclaimed property is an important part of our work at the State Treasurer's Office," Treasurer Loftis said. "We know this money can make a meaningful impact on our citizens, local businesses, government agencies, schools and even nonprofits."
"The City of Aiken has benefited from the State Treasurer's Program for unclaimed funds," Aiken Mayor Pro Tempore Gail Diggs explained. "We encourage our citizens to check treasurer.sc.gov to see if they also have unclaimed funds they can collect.There is nothing better than going to your mailbox and getting money that you were not expecting. Every little bit helps!"
Treasurer Loftis is encouraging folks to search the State Treasurer's website for unclaimed property because valid claims received in September will be processed for payment in plenty of time for the holiday season. As part of the Claim Your Cash for Christmas promotion, the Treasurer's Office will share names on its Facebook page and feature videos about real people who have received unclaimed property.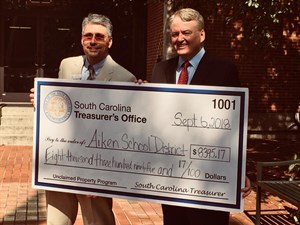 Currently the State Treasurer's Office has more than $550 million in unclaimed property across the state. Millions of dollars are transferred to the program annually by companies that cannot locate the owners. Examples of the types of property covered by the program include dormant bank accounts, uncashed checks, unclaimed insurance proceeds and forgotten utility deposits. The State Treasurer's Office serves as custodian of unclaimed funds and holds them until claimed by the rightful owners.
During his administration, Treasurer Loftis has returned $158 million, more than all previous state treasurers combined.
You can visit the State Treasurer's Office website at www.treasurer.sc.gov to see if there is unclaimed property for you or your family.