State Treasurer Curtis Loftis and the Unclaimed Property Program returned nearly $33 million in 2017, bringing the total amount of money returned during his administration to $137 million, more than all previous state treasurers combined.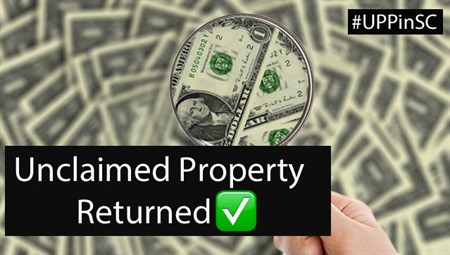 "My Unclaimed Property team has done an outstanding job helping identify individuals who have money waiting for them," Treasurer Loftis said. "This is money that can change people's lives, and we want to reunite them with funds that are rightfully theirs."
As immediate-past president of the National Association of Unclaimed Property Administrators, Treasurer Loftis is dedicated to returning unclaimed money to its rightful owners. Since Treasurer Loftis has taken office, the annual amount returned has almost doubled.
Treasurer Loftis often spends his own time researching the large and more difficult claims, resulting in millions of dollars being returned to hard-working South Carolinians.
"We may have paid back nearly $32.9 million last year, but we still have $550 million in funds waiting to be claimed," added Treasurer Loftis. "Everyone should check their name to see if they have unclaimed property. You might not even know that you have money waiting for you."
Millions of dollars are transferred to the program annually by companies that cannot locate the owners. Examples of the types of property covered by the program include dormant bank accounts, stock certificates, uncashed checks (including paychecks), insurance proceeds and utility deposits. The Unclaimed Property Program does not include tangible property like land or vehicles.
You can click here to see if the State Treasurer's Office is holding unclaimed property for you or your family.