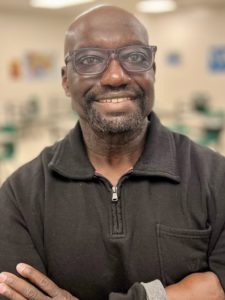 South Carolina Treasurer Curtis Loftis has recognized Thurman Evans of McCracken Middle School in Spartanburg as the South Carolina Financial Literacy Master Teacher Program's Educator of the Month for February.
"Helping students create strong financial habits and teaching them to avoid financial pitfalls are cornerstones of our Financial Literacy Master Teacher Program," said State Treasurer Curtis Loftis. "Outstanding teachers like Thurman Evans empower our students by preparing them to meet the challenges of the real world."
Evans is a seventh-grade social studies teacher at McCracken Middle School. He also works with the Spartanburg Academic Movement, a community partnership dedicated to continuous improvement in education by enhancing school culture to improve teacher and student performance. Mr. Evans began his teaching career in 2013 at Saluda Middle School. He earned his bachelor's degree from Benedict College and holds two master's degrees, an MBA from Brenau University and a Master of Educational Leadership from Gardner-Webb University. He also holds professional certifications in elementary and secondary administration with endorsements in Gifted and Talented and Read to Succeed. Evans is a Silver-level Financial Literacy Master Teacher.
"Teaching personal finance helps our students avoid the social, economic and political pitfalls that we have been trying to eradicate in education," Evans said. "I enjoy the opportunity to help introduce students to the terminology they need to navigate the world of finances. From purchasing power and debt-to-income ratios, to understanding the importance of interest rates, balancing your checkbook and knowing the difference between gross and net income, these concepts are a valuable addition to our educational curriculum."
The South Carolina Financial Literacy Master Teacher Program provides incentives to K-12 teachers who are experts in the area of financial literacy and have a desire to teach professional development workshops to other educators in their schools and districts. Through the program, participating teachers will have access to specialized training and financial literacy curriculum resources that will better enable them to promote financial literacy education in K-12 schools.
Sponsored by Future Scholar, South Carolina's 529 College Savings Plan, and in partnership with SC Economics, this statewide financial literacy initiative aims to increase teacher support and involvement in incorporating personal finance education into the curriculum.