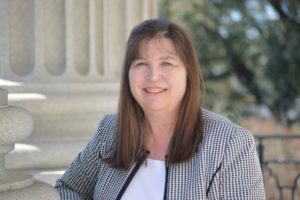 March 9, 2022
South Carolina Treasurer Curtis Loftis, Chairman of the State Board of Financial Institutions, announced that Kathy L. Bickham has been selected to serve as the next Commissioner of Banking for the state. She is the first woman to serve in this capacity at the agency.
Bickham began her career with the State Board of Financial Institutions, the agency charged with chartering, examining and regulating South Carolina state-chartered banks and credit unions, as an entry level Bank Examiner in 1991. Over the next 14 years, she steadily progressed throughout the ranks and in 2005, she was named Deputy Commissioner of Banking. She was named Interim Banking Commissioner in January 2022, when Rick Green stepped down from that position.
"As a valued Deputy Commissioner for 17 years, Kathy brings a progressive, results-driven approach to this leadership role," Treasurer Loftis said. "Her accomplishments are many. She's led banking operations and strategic direction for the agency, championed industry growth among state-chartered institutions and helped secure national accreditation from the Conference of State Bank Supervisors. Kathy is a true asset to the state, and the Board and I look forward to working with her as she begins this new role."
Bickham played an integral part in securing South Carolina's participation in a national bank examiner pilot program and has worked with the National Credit Union Association to explore supervisory efficiencies and reduce the regulatory burden on credit unions. A graduate of the University of South Carolina, Bickham has a Bachelor of Administration in Accounting and a master's degree in business education.
"I am honored and excited to serve as Commissioner of Banking. I would like to thank Chairman Loftis and the Board for their confidence in me and the support they have given me," Bickham said. "I look forward to working with the Board and our excellent staff as we move forward."